Check out a few of these awesome athletes... and their medals!!
How This Paralympic Archer Found a Bull's-Eye Without an Arrow
Lia Coryell often questioned whether life with a debilitating disease was worth living. But then she found a purpose, and it goes way beyond shooting arrows at targets.
By
Ben Shpigel
LA CROSSE, Wis. — From across the archery range, Erich Mueller spotted the woman in the wheelchair wearing a shirt that said, "I Hate Running," and knew he had to meet her. Stifling a laugh, he introduced himself to Lia Coryell, and she smiled and called him Honey.
Soon, she started coming when Mueller and his teammates on the University of Wisconsin-La Crosse's club team practiced, doling out snacks and advice. Calling herself Team Mom, she stayed at their hotels for tournaments. Then she asked if they needed a coach.
"But Lia's more than an archery coach," Mueller said. "She's become my life coach."
Last year, Mueller learned he had cancer and he knew that if anyone would understand, it would be Coryell. Like him, she knows what it's like to live on a timeline.
Coryell, 56, has progressive multiple sclerosis, a chronic, incurable disease that affects the central nervous system. When she relapsed seven years ago, landing in a wheelchair, doctors advised her to halt occupational and physical therapy, placed her in grief counseling and urged her to settle her affairs — because tomorrow, they said, will never be better than today.
https://www.nytimes.com/2021/08/25/s...a-coryell.html
Kadeena Cox wins cycling gold to kick off Paralympic multisport double bid
Cox peerless in retaining women's C4-5 500m time trial title
ParalympicsGB athlete will switch to athletics next week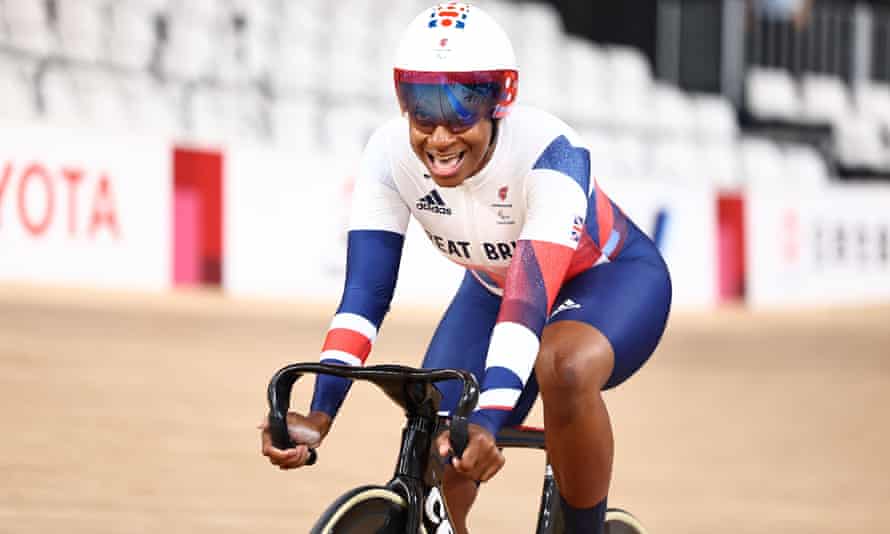 Fri 27 Aug 2021 02.44 EDT
Great Britain's Kadeena Cox retained her Paralympic women's C4-5 500m time trial title at the Izu Velodrome, a world-record-breaking final run kicking off the first half of what Cox hopes will be another Olympic multisport double.
Cox was the last to ride in Friday's final, having qualified fastest, but showed no sign of pressure with a blistering time of 34.433sec to take gold by over a second, ParalympicsGB's ninth medal in three days of track cycling in Japan. Canada's Kate O'Brien took silver, with Caroline Groot of the Netherlands winning bronze.
"It feels amazing, I knew I was going to have to do something special and I knew if I put everything together me and my coach have worked on, it would be amazing and that's what happened so I am so happy," said Cox. "I was not paying attention to what anyone was doing, I was just listening to my gospel music and just reading messages from my family and focusing on that. I got up and did my own thing."
Cox will switch her focus to athletics next week, when she will run in the women's T38 400m at the Tokyo Olympic Stadium in an attempt to match her golden double at the Rio Games in 2016, when she became the first British Paralympian in 32 years to win gold medals in different sports at a single Games. She has also raised the prospect of a possible tilt at a snowboarding medal at the Winter
Paralympics
, although injuries and the Covid-19 pandemic mean that the 2022 Games will come too soon.
Before any of that, though, Cox could add another medal in the velodrome, with the team sprint still to come on Saturday.
Her recovery for that event will be made all the more challenging by the oppressive heat in the region. The wheelchair tennis was suspended in Tokyo on Friday morning due to extreme heat and conditions in Izu, 170km south of the capital, were equally warm.
"I have MS and am heat intolerant so it is tricky, it is affecting my spasms and affected my speech which is annoying because I like talking," said Cox. "It is a struggle and it will take me a little bit longer to recover, which hopefully isn't too long because we have a race tomorrow."
https://www.theguardian.com/sport/20...ort-double-bid